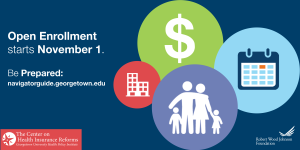 There's an election approaching in just a few short days and it isn't for President. Starting November 1st, it's time to vote for a new health plan on the Affordable Care Act health insurance marketplaces. To help consumers understand their options, rights and responsibilities, we at CHIR are proud to offer an updated Navigator Resource Guide on Private Health Insurance and Health Insurance Marketplaces. Developed with the support of the Robert Wood Johnson Foundation, the Guide offers close to 300 searchable commonly asked questions and answers about shopping for and enrolling in health insurance coverage.
The Guide is a hands-on, practical resource for navigators and anyone who needs to communicate with consumers about applying for financial assistance, eligibility for a marketplace plan, the individual responsibility requirement, consumers' rights once enrolled, and other important topics. The frequently asked questions (FAQs) represent a wide range of scenarios consumers may face as they navigate their options during the open enrollment season and beyond.
This year's Guide has been updated to reflect recent federal rules and guidance affecting private health insurance coverage in 2017. To learn more, visit the Guide at http://navigatorguide.georgetown.edu/.