The Affordable Care Act (ACA) has extended insurance coverage to 22 million people, but the law's critics often point to the high out-of-pocket costs in some of the ACA's marketplace health plans. And while many people do face high deductibles and cost-sharing for health care services, a recent report from the National Center for Health Statistics (NCHS) at the Centers for Disease Control and Prevention (CDC) finds that dramatically fewer people are struggling to pay medical bills, compared to what they faced before the ACA.
A recent national survey found that, since 2011, that number has declined by nearly 13 million people, or 22%. This downward trend is consistent across demographics and insurance types, a sign that even the most vulnerable populations are seeing the results of the ACA's market reforms and consumer protections in their pocketbooks.
Percentage and number of persons under age 65 who were in families having problems paying medical bills in the past 12 months, by year: United States, 2011-June 2016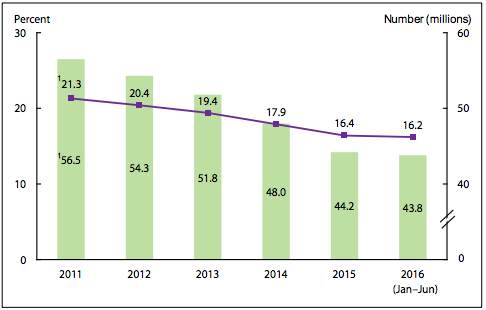 1Significant linear decrease from 2011 through June 2016 (p<0.5)                         NOTE: Data are based on household interviews of a sample of the civilian noninstitutionalized population                                                                               SOURCE: NCHS, National Health Interview Survey, 2011-2016
You can access the full NCHS report here.
Since 2010, the ACA's market reforms and financial assistance have gradually led to increased access to comprehensive health insurance, bringing the uninsured rate to a record low. The same provisions that have increased coverage and decreased financial stress now stand in front of a firing squad; the new administration's promise to repeal the ACA puts people across the country at risk of losing their insurance or facing higher out-of-pocket costs. The increased relief from the financial burden of medical bills is a sign that the ACA is working as intended. Let's not undo that progress.