Lately we've received a number of questions about embedded deductibles so we thought it would be helpful to talk about them with a wider audience. What are embedded deductibles, and how do they work? Before we start, let's do a quick review on deductibles. As we're sure many of you know, a deductible is the amount you have to pay out-of-pocket before your health insurance coverage pays for covered benefits. It's pretty straightforward in an individual plan, but what about in a family plan?
This is where an embedded deductible comes into play. Under family coverage, an embedded deductible is the individual deductible for each covered person, embedded in the family deductible. While it might not sound like a good thing to have two deductibles, it actually works to provide better coverage for individual members because once each family member meets his or her embedded deductible, health insurance begins paying for covered services, regardless of whether the larger family deductible is met. Contrast this to a non-embedded deductible, also referred to as an aggregate deductible. Under an aggregate deductible, the total family deductible must be paid out-of-pocket before health insurance starts paying for the health care services incurred by any family member.
Let's take a look at the graphic below (inspired by a similar slide from the Center on Budget and Policy Priorities) comparing how an embedded and aggregate deductible work with the Gomez family. Under an aggregate deductible, none of Jaime, Lisa or Anna's medical bills will be covered by insurance because they haven't met their aggregate deductible of $6,000 under their health plan. Their total expenses only reached $5,750.  However, under an embedded deductible, Anna has met her $2,000 embedded deductible, so the health plan picks up the remaining $3,000 in medical bills (assuming they were for covered services), even though the family deductible was not met.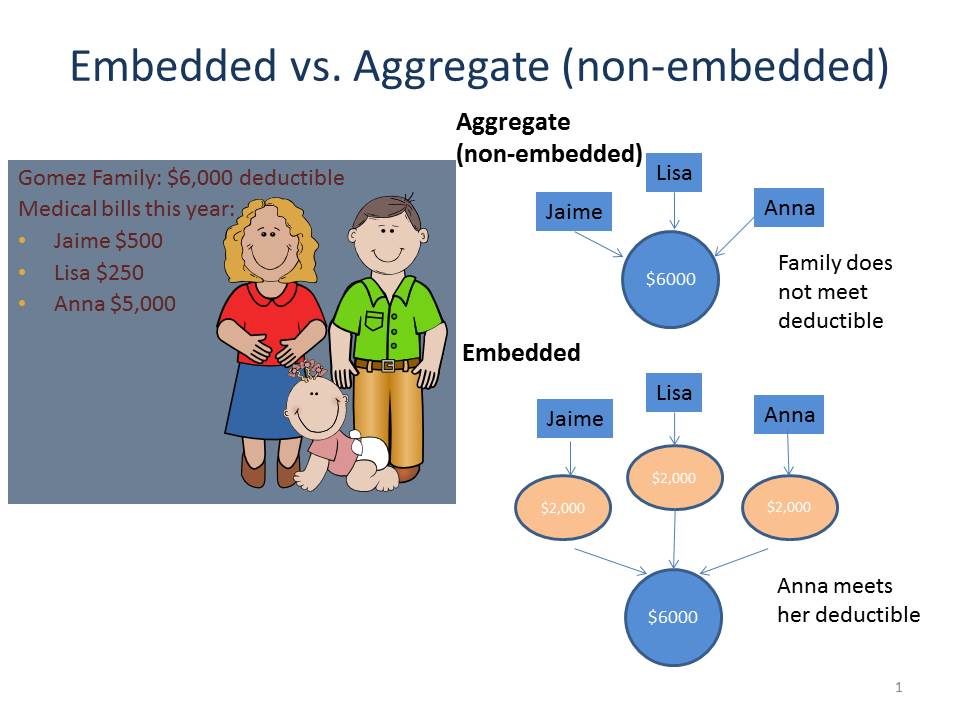 So what's the point? Well, as open enrollment has begun and many families are signing up or thinking about switching health insurance plans, it's good to know the difference between an embedded and aggregate deductible, particularly if you anticipate that one or more family members will have significant health care needs. While family coverage with an aggregate deductible may have a lower monthly premium, coverage won't kick in until the total family deductible is met. In contrast, family health plans with an embedded deductible may help ensure that there is coverage for individual family members once they meet their embedded deductible, regardless of whether the family deductible is met. Unfortunately, the Summary of Benefits and Coverage won't necessarily tell you if the deductible is embedded or not; you may have to call the plan to learn how the deductible will be applied for your coverage.
Our on-line Navigator Guide has been updated to include information about embedded deductibles.  Stay tuned as we talk about Health Savings Accounts (HSAs) next week.